Donations

The easiest way to donate is via the Charity Giving web site, Click on the picture to the left to take you straight to their donations page.

Charity Giving is a charity donations web site that ensures any monies you donate all go to their respective recipients. Indeed, if you are a UK tax payer, make sure you check the Gift Aid box on donating and Charity Giving will add the tax relief to the donation, so a donation of just £10 is worth £12.42 to Keeping Abreast.

Foreword

The 'Fat Bloke On A Moped' ride that was 'Project Norfolk' took place on the 24th and 25th of September 2010.

The ride was a great success despite the storm force winds and rain that hit the moped riders on the Saturday 25th.

Below is the planning and the web page info available for prospective riders. I've duplicated the diary part of the Blog for completeness at the bottom. I thought I'd leave this part of the web site up as a record of events and planning.

Project Norfolk - Friday 24th to Saturday 25th September 2010

Project Norfolk is the precursor to the big one, Project Britain, which will be taking place in the summer of 2011.

To raise funds for this event I ask the following;

Biker participants pay an entrance fee donation at the start line of £10
If you can can raise any sponsorship from friends and relatives, all monies will be greatly received

A sponsorship forms you can download and print can be obtained by clicking here

You have your own bike and will circumnavigate Norfolk accord to the route

It will be impossible to marshal the event other than checking in and out at the start line so I shall use the honesty system
You are responsible for your own bike and legalities of driving on Her Majesty's Highway and will conform to the law of the road

If you are a non bike rider but would still like to participate in some way, I will be holding a sweep stake to guess the exact time it takes me to complete the circumnavigation and the exact distance too. If you have anything suitable to donate to the prize fund, all gifts will be greatly appreciated. See the Discussion section below for more information on the sweep stake.

Overview

The plan for this event is as follows. The numbered paragraphs refer to the Discussion section below for a full description;

Plan: Circumnavigation of the county of Norfolk
Who: Moped and Motor bike riders all welcome
Date: Friday 24th September to Saturday 25th September 2010
Route: Anti clockwise starting in the village of Southery, West Norfolk

I take it that if you have read this far, you're still interested. Good stuff. As I'm sure you've read already elsewhere on the site, I'm not a biker so when i refer to mopeds I'm meaning any bike who's capacity is up to 125cc and motor bikes as anything over 125cc. It just helps me make the distinctions clearer in my mind.

1. Plan: Two days to get round the edge of Norfolk on a moped should be feasible. Indeed, I believe it's possible to do it in a day however it's not a race, so the Friday will be spent getting to Great Yarmouth and stopping the evening somewhere there (exact place TBA) leaving the whole of Saturday to work around the coast roads back to base.

Depending upon the interest level generated around the route, there may be stop off points for fund collecting, etc, which will alter the timings below. Some degree of flexibility will need to be exercised.

2. Who: This event is about raising money for the cause, not excluding those that ride more powerful machinery, so the event is open to all motor bikers, no mater the age or performance of your bike, or the rider for that matter. You do of course need to be road legal and you are responsible for your conduct on Her Majesty's Highway.

Although I confess to not knowing anything about bikes I know quite a bit about cars so I'm not naive to the yawning divide of performance difference between motor bikes and [say] the sort of moped I'll be riding. I also appreciate that a lot of people work Monday to Friday and so making a Friday start can be out of the question for some. To that end there will be two entourages travelling from the start line, one on the Friday afternoon (mainly for moped riders) and one on Saturday morning (for the more powerful bikes.)

3. Date: Friday 24th September: Moped riders, or indeed those wishing to join the entourage on other bikes, will be leaving the car park of The Old White Bell pub in Southery in the early afternoon at 2.30pm and follow the route to the Great Yarmouth stop over point.

Saturday 25th September: Moped riders will gather at the Great Yarmouth sea front at approximately 9.30am for PR and awareness raising. At approximately 10.30am they will set off and continue following the route of the roads on the coast line.

Saturday 25th September: Motorbike riders will set off from the car park of The Old White Bell pub in Southery at c.10.00am and follow the route to Great Yarmouth and meet up at the rendevous point along with the PR and awareness group. Timing is approximate but expect to be there at c11.30am onwards. After a break, the main biking entourage will set off in pursuit of the scooter/moped contingent and at some point the motor bikes should catch up, but if by some sheer miracle that doesn't happen, a rendezvous point will be set up in the King's Lynn area so everyone can ride en masse to the finish line.

Simon Rose has volunteered to be on Gt Yarmouth sea front along the main drag with the sponsorship banner and a collection bucket or two, collecting donations and raising awareness. He's after volunteers to help out. He's aiming on having a good night out the night before too.

4. Route: The border between Norfolk and Suffolk by road is pretty clear cut, with only a few back roads, mainly in the West Norfolk area. We'll stick to the main A roads to the south all the way round to Great Yarmouth then there are some tedious small roads to enable us to stick to the cost until we reach Cromer. From there it's relatively straight forward to King's Lynn with a little spurt in the direction of Sutton Bridge before turning off down to skirt Wisbech and through some more back roads to arrive back at the finish. Specifically, the settlement by settlement route is;
---
The following riders participated in the Project Norfolk ride.
| | | | | | | |
| --- | --- | --- | --- | --- | --- | --- |
| Moped/Scooter Riders | | | | | Sub Total | 4 |
| David Fletcher | Kevin Rooney | Aaron Barrett | Tina Lucie Smith | | | |
| | | | | | | |
| Motor Bike Riders | | | | | Sub Total | 10 |
| Peter Smith | Euan Lucie Smith | Jane Beeton | Graham Pratt | Lynn Pratt | | |
| Soji Ojelade | Mark Sharman | Paul | Keith Blowers | +1 | | |
| | | | | | | |
| | | | | | Total | 14 |
---
From/To

Via

Southery
B1160/back road
Feltwell
B1112/back road
Hockwold Cum Wilton
back road/A1065
Brandon
B1107
Thetford
A1066
Diss
A143
Gt Yarmouth
A149/back roads
Caistor On Sea
B1159
California
B1159
Scratby
B1159
Newport
B1159
Winterton On Sea
B1159
Horsey
B1159
Horsey Corner
B1159
Waxham
B1159
Sea Palling
B1159
Lessingham
B1159
Whimpwell Green
B1159
Happisburgh
B1159
Walcott
B1159
Keswick
B1159
Bacton
B1159
Paston
B1159
Paston Street
B1159
Mundesley
B1159
Trimingham
B1159
Sidestrand
B1159
Overstrand
B1159
Cromer
A149
Sheringham
A149
Wells-Next-the-Sea
A149
Hunstanton
A149/A148/A1078
King's Lynn
A17/back roads
Southery
A17/A10

The route from Gt Yarmouth to Cromer should be quite a navigational challenge, however, keeping the sea on your right hand side shouldn't prove too troublesome. No cheating and taking the A149 from Gt Yarmouth to Cromer!

The exact route can be downloaded and printed. By clicking on the map, you will get a larger higher resolution version (warning: 2.3Mb in size)
---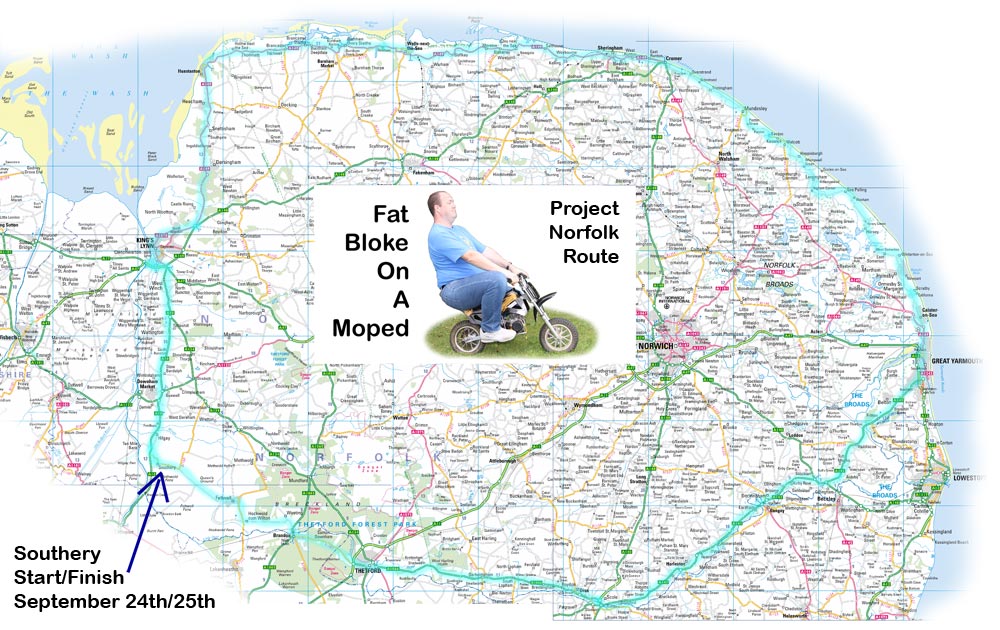 ---
Sweepstake (updated 16th Sept 2010)
For those who would like to take part and can't or don't ride a motorised bike, there will be a sweepstake held at the Old White Bell public house from the beginning of September and the results given out on the evening of the 25th September (upon our triumphant return of course!)

Cost of entering is £1. For your entrance fee you are entitled to a guess to determine the exact mileage my scooter covers over the two days as well as a guess for the exact time it takes me to ride the distance. Two prizes will therefore be awarded for the nearest, without going over the totals.

If you are unable to get to the Old White Bell public house to submit your guess, kindly either donate via the online donate option found in the left hand banner of each page and then contact me via email for your guess.

Two prizes are being awarded for the distance and the time. In both cases they are Morrisons Food Hampers as donated by the Keeping Abreast Team.

The Story Of The Ride
What follows below is the story of the events leading up to the first trip around Norfolk. Reading from the bottom upward the blog roughly charts the story from when things started to happen fromfirst looking at bikes, my CBT and culminates in the ride itself.
David, 25th September 2010: I'm happy to report the trip was a blinding success but not without incident. We (Tina, Kevin, Aaron & myself) set of yesterday just 5 mins behind schedule at 2.35pm, stopping in Diss for a quick fuel fill up for Aaron's bike. We arrived after 2 and a half hours at the Burgh Castle campsite just after 5pm. Stuart, who was running support, had given us a 30min head start but he hadn't banked on the tail back [we'd probably caused] on the road into Yarmouth. My apologies go to anyone who was caught in the traffic build up behind us, but it was all for a good cause. The weather was predominantly wet/overcast but it was great to finish the first leg with no mishaps.
Big respect to Debbie at Burgh Castle Church Farm Camping & Caravanning who waived the campsite fee for us.
We ate and drank in the Queens Head and was joined by Barry and Rose, Kevin's parents, which was a welcome surprise.
Slept well in the tent. It rained quite a bit throughout the night but my tent held up well and I was dry and warm.
| | | | | | |
| --- | --- | --- | --- | --- | --- |
| | | | | | |
| Sunrise | Our gaggle of tents | The overnight rain made everything wet | Moon was still visible over the broads | Why is it I've never got a proper camera when I need one | Where there's a rainbow there's rain (the clue is in the name) |
We left the campsite before schedule at around 9am and found a petrol station on our way to the sea front where we met up with Roger. We promptly headed for the cafe opposite Britannia Pier for a breakfast after Simon, Justin, Danny and the girls had rendezvoused with us. While eating we had a message to say that the real bikers had left the Old White Bell at 10.10am.
The map for the rest of the route was in my head and it all seemed so clear as we headed away from the pier at 10.45am. We'd agreed between us 4, that if the road was good we'd enjoy it rather than stay in a strict group and once we hit the B1159, the old coast road, I was able to open up the throttle for the first time in 85miles since we left yesterday. Unfortunately I wasn't able to get far before I took the lead to then pull in - my oil light had come on. It was a delay of 20mins after a confirmation call to Ling's Honda in Harleston, that the light was just a service reminder light and was reset with a bit of experimentation of console button pressing and ignition switching.
The weather was holding out well but was a little blowy and things were going well when we really did have a bit of a disaster. Just as we were reaching Bacton, Kevin was struggling to break 30mph and after we had to pull over due to a navigational error (I went wrong by 50yds) Tina pointed out to Kevin his rear tyre looked flat. After a quick visual inspection it was obvious he had apuncture.

He was visibly crest fallen as he knewthe chances of getting it fixed was remote. It was decided we'd get to the next petrol station and add some air and hopefully be able to keep going by adding air where we can. As luck would have it, 100yds later we came across Eden Garage. Mr Plummer, the garage owner, was a biker and sorted out the flat for us to keep us on our way, despite being really busy. A big heart felt thanks goes out to all of us for his help as we knew we would have had a major problem on our hands. (Eden Garage, Coast Road, Bacton, Norfolk 01692 650719)
Everyone was smiling again as the sun was out and we were on our way again. The puncture had cost us 50mins and with the time at 12.40, we could swear we could hear in the distance the noise of approaching motorcycles.
In Bacton itself we finally saw the sea for the first time since leaving Yarmouth. The surf was up because of the howling wind and white topped waves were giving off a spray which was making the road very damp. The wind was against us too, so despite the rear tyre of Kevin's bike being at a proper pressure, progress was slow, topping out at around 34mph on the level.
By the time we hit Cromer the weather had really taken a turn for the worse. Stuart in the support vehicle said he'd had to put the wipers on his car to the fast speed yet was still not clearing the rain. My non fog device on my helmet was fogging up, Kevin could only hit 28mph due to the head wind, the rain was relentless, I could hardly feel the ends of my fingers and there was a big draft coming up my trouser leg.
Eventually, as we neared The Wash, "Sunny Hunny" Hunstanton lived true to it's name as the cloud cover cleared and the sun shone. We all thought we were seeing things as we left Thornham. Coming toward us on the other side of the road was what appeared to be an enormous man on a tiny bike, dress entirely in black except for his white open face helmet. As he rode past me it was apparent it wasn't an enormous man but a member of the clergy dressed in his cassock, his robes billowing in the wind like a yachts sail, the bike lost beneath the uniform. All I could think of was to make a mental note of a future possible fund raiser along the lines of 'Priest on a Ped' or 'Bish on a bike.' Food for thought.
We arrived on Hunstanton sea front at 3pm and piled into a Cafe for a cuppa. After 30mins Tina spotted her friend Soji riding in to town by himself. It had turned out he'd lost the main group when he'd been riding ahead to stop and take pics (below) so had decided to head to the Hunstanton rendezvous point. Fifteen minutes later the rest of the riders turned up. As they rode into Hunstanton and parked up, I can admit to getting a bit emotional.
After a brief break we gave Kevin a head start and I set off in the lead. Pausing only for a petrol stop we rode to Knights Hill roundabout, proceeded into King's Lynn via the docks, around the one-way system, passed through Southgates, onto the Hardwick roundabout and then down the A10.
Now out of the coastal wind and a clear but cool late afternoon air, Kevins bike was able to hit the mid 40's. Despite this, with the other 12 bikes all following behind we still managed to cause a bit of a hold up (apologies if you were following us.)
With the emotions running high (I was blubbing) we pulled into the Old White Bell car park and it was great to see a huge turnout for our return with flags waving and people cheering.
Click the image above for the pics taken by Roger and Soji

For Claire's pictures, click on the image above

A little movie clip of the riders returning to the pub car park
My heart felt thanks go out to all that joined in and helped to make it possible, especially Tina and Euan who brought with them their experience and practical suggestions, Kevin for actually making it (he was rather pleased,) Aaron for coming with us at the last moment and Stuart for driving his car around the route with all our gear (he wished he was on a 'ped.) A big thanks also to everyone who gave up their time and petrol and rode around the route. Roger for supervising the sea front collectors at Yarmouth, the sea front collectors Holly, Sam, Simon, Danny and Justin for getting up when they'd usually be recovering from a hang over, Debbie for waving the camp site fee, Mr Plummer at Eden Garage for getting us out of a fix, Louise for standing in her high heeled boots helping Claire out with the bucket waving in Ely and Claire for being my wife.
| | |
| --- | --- |
| Mileage | 187.9 |
| Journey Time | 7hrs 20mins |
| Average Speed | 25.62mph |
Break Down of Funds Raised for Project Norfolk
The following table is a brief break down of the funds raised from the little trip around Norfolk. The Online Donations are all via the Charity Giving web site (see side panel to the left) and all money donated via that method has Gift Aid tax reclaimed, hence the total on the line below. Cash donations are as a result of the all the little fund raising events attended over the course of the project including the street collections, quiz, sponsorship, guess the mileage of the trip, etc. Cheque donations are listed seperately for no other reason that it helped me keep track of things.
| | |
| --- | --- |
| Online Donations | £600.80 |
| Total Gift Aid | £161.02 |
| Cash Donations | £1,920.30 |
| Cheque Donations | £434.00 |
| Project Norfolk Final Total | £3,116.12 |
David, 25th September 2010: After the ride was completed we held a quiz over at the Old White Bell and all proceeds (of £65.45) was donated to the Fat Bloke/Keeping Abreast tally. The Keeping Abreast Team won the night with Team Moped coming 2nd and Team Moped Support collecting 3rd prize (if that doesn't sound like a fix...!)
Also today, Claire and Louise (Roger's wife) were shaking a bucket at the BP garage in Ely and of course the bucket rattlers were also on Yarmouth sea front. Between them they managed coerce £295.51 out of the generous public.
David, 24th September 2010: 8am - and I'm at the dentist due to a filling malfunction. Didn't want that spoiling my weekend, however the weather looks pretty dire and that may well do a good job of spoiling it.
10am - I've written up contact information for all concerned. Pretty much packed too.
12noon - Stuart came round and the car is loaded up with mine and Tina's gear. Just need Kevin's and Aaron's.
1pm - Last entry to the blog as I need to get over the pub. Both the EDP and Lynn News have rang this morning and they are making their way there. I'll do my best to keep things informed on Twitter feed.
I'm stepping outside, I may be some time.....
David, 23rd September 2010: Just got basck from JD Signs who have stickered up the bike for me. The idea is over the coming months as Project Britain starts to get going, I'll be able to add sponsorship to the bike. The stickers also have a dual function of covering up some of the scrapes and scratches that are evident on the bodywork from the previous owner.
Claire has just got back home from standing in Budgens at Dersingham rattling a Keeping Abreast bucket. Counting up the coinage the generous people of the Budgens customer base raised £84.04. Claire would like to thank Karl Mendham the store manager and Caroline Bosworth the Community Liason Manager.
David, 22nd September 2010: Travelled over to to see Sue Henry, the chairman of the Keeping Abreast King's Lynn branch for the Pink T-shirts and collection buckets the street collectors will be using on Yarmouth sea front. Also picked up the food hampers which have been donated as the prizes for the "Guess the Distance" and "Guess the Time" sweepstake.
Tina dropped her camping equipment over, so she's not weighed down on Friday.
My Dolly & I dropped over some T-Shirts too.
David, 20th September 2010: Busy day today. Took the bike over to Lings Honda for its 7500 mile service. Got back home by 3pm then nipped out for a few other bike related bits - another 5 litre fuel can, braces for my waterproof trousers, neck scarf and a cover for the bike (which was too small.) Bumped into Kevin while out and when we got back we went through the route cards Euan had emailed me earlier last week and printed and laminated them. We also went through the route itself on Google Earth.
Had a phone call from a group of 4 college guys who want to come along too which was great. They won't be able to do the first part of the route due to prior commitements, however they will meet us at Burgh Castle campsite on the Friday evening and will ride the 2nd day with us.
David, 17th September 2010: Spoke with Chris Bishop of the EDP today. Confirmed they will be there to see us off next Friday.
David, 15th September 2010: Quite a bit of news today and none of it was brilliant. Jason rang me in the morning to tell me he's put his back out. He's on pain killers but can't get his leg over his bike so may not be able to ride in a weeks time.
I visited Chris (& Tracy) who has not long gotten out of hospital after his knee replacement op. Realistically, he doesn't think he'll be able to ride in a weeks time either.
Peter now has to ride the trip on his real bike and not the 70cc, 40 year old Yamaha U7 that he'd borrowed as the insurance wanted £70, which for just the weekend was ludicrous, especially when you consider he's just sold his 1000cc sports bike and was essentially swapping the insurance over.
David, 13th September 2010: Rode over to Elmers in the evening to try and and then purchase some protective trousers. The size is a 6XL, which was comfy around the waist but felt really bulky otherwise. When you sit ont he ped though, everything falls into place. I was wanting to try on a snoot and maybe some glooves too but Olly, the owner, was in a rush to get to a celebrity hosted dinner on the coast, so I didn't have time. Hope to visit again though, maybe when I kit myself for the Britain trip.

David, 11th September 2010: Had a wee jolly today and rode down to a village fete in Upshire, Essex, which is whereI was bornand dragged up for the first 23 years of my life. I went on the bike and Claire in the car arrying the table, A-board and some Keeping Abreast leaflets Claire picked up yesterday. The Fete was only from 2pm to 5pm but it was hard work, promoting Keeping Abreast and raising a bit of sponsorship money. Total raised today was £35 plus had an online donation too from a nice guy named Roy, so well worth the trip.
David, 4th September 2010: Attended a Keeping Abreast event at The Old Bell in Grinstone, which is located to the East of King's Lynn. It was an afternoon tea event and I went on the bike, Claire drove. I managed to get a little bit more sponsorship and had some pledges paid too. The significance of this means we've cracked the £1000 barrier, making the total as of today £1074.73.
---
David, 30th August 2010: Busy day today. The Old White Bell had a family fun day and I was invited to set up a stand and the [newly acquired] A-Board in an effort to raise awareness and funds. I started the ball rolling with the "Guess the Mileage and time" sweepstake (still need two prizes for that one) and already have 55 entrants. With the sponsorship donations added in as well, we made a nice little total of £188 and a lot more pledges on the sponsor sheet. Claire was manning the Tombola for the day and Nic the landlady very kindly donated the proceedings from that stall too which amounted to £124. So the grand total for the days fund raising efforts came to £312. Fantastic.
David, 27th August 2010: I'm 41 today. Rats.

David, 26th August 2010: Had a phone call today from JDSigns to let me know my A-Board is ready. When I wastelling the crew of JD's what I was up to when I was fixing some of their computers recently they said they'd like to help out and they have very knidly donated this A-Board and stickered it up for me. The great thing is it's re-useable so after Project Norfolk I can get the writing changed for Project Britain. I think it looks absolutely cracking.
David, 23rd August 2010: Now that Kevin has his bike running we went for a ride to Lynn today. Rain was torrential and we got soaked right through but the breeze on the trip home helped to dry us out.
Bought a 5 litre fuel can which fits perfectly in the helmet box, two abreast. Very useful to have as it can potentially double the range of the bikes and will hopefully come in useful for the more remote parts of the Project Britain trip. I'm also tempted to run the tank dry, just to see how far I can get on a full tank.
David, 18th August 2010: Had an email from Claire Beal, a reporter from the Lynn News on Monday interested in the current project and as a result one of their photographers paid myself and Claire a visit today for a pic for the story. Need to check up with Claire Beal as to when it's due to be published.
Updated the Get Involved page with info and pics on the cap and T-Shirt. Youc an now buy your very own and donate at the same time :-)
David, 12th August 2010: Met up with Tina in Downham Market and we rode over to a Keeping Abreast awareness evening at Esselle Ladies Gym. We left my sponsorship form at the front table along with the T-Shirts and badges and manged to get another £19 raised as well as some more pledged. The significance of this amount means we've broken the £500 barrier in funds raised so far. Blimey!
David, 11th August 2010: Had a bit of a panic today as I was all set to go out ont he bike and no lights came on witht he ignition. My bike has no kick start and no clutch so the only alternative I have to help start it is with jump leads. The battery was indeed flat as a pancake although it did start easily with the jump leads. Puzzled I set off to C & A Superbikes to drop off a poster to them albeit with some hoofing great jump leads under the sadle and a car battery from my laid up Cavalier in the helmet box. No further problems resulted and when I got home I'd realised the cause was because the seat had been left up since I'd last used it a few days ago and the courtesy light under the seat had been on. Spookily enough, speaking to Tina in the evening, she'd had a very similar problem wherby the parking light had been left on all day on her Suzuki.
Spent half of the day sorting out the campsite for the Project Norfolk trip. Seems as though all the camp sites online are members of clubs and you need to be a member of the club to camp. Also, a lot of them require two nights minimum booking! Prices for the sake of a bit of canvas over our heads were bordering on the ridiculous side, so I started to think that a B&B would be more cost effective. Just as I was about to give up hope, Burgh Castle Church Farm Camping & Caravanning came up trumps. Although out of season, Debbie the owner will be opening the camp site just for our team of moped riders. Many thanks to Debbie for helping out and giving us a preferential rate to boot. (There's also two pubs in the village! :-)
Tina, 10th August 2010: I took delivery of my new toy, my banana splits bike, for the charity rides two weeks ago, getting used to the 'lack' of speed is very different, not helped by having to run it in for the next 600 miles on half throttle. It is a quirky little thing and I am sure I will learn to love it, just need more miles on its new engine. Since delivery I have already added a top box and Sat Nav, just in case we lose sight of the sea! Also I have a new tent so all ready for the off, when do we go?
David, 10th August 2010: Spent most of today speking with Gt Yarmouth Council, Norfolk Constabulary and a few other departments and planning all for the sake of being able to have some people on the Yarmouth sea front and rattle a bucket to collect some funds and raise awareness. Oh what fun.
David, 8th August 2010: Just got back from an afternoon and evening out at a Barn Bash BBQ in Narborough. The relevance of this is the camping experience. I'd bought in the week a Vango Dart 300 twin skin pop up tent. Kept myself and the current Mrs Fatbloke dry although there is no way it's a 3 man. If it is, then I hope they are very intimate with each other. It also was apparent as to how much camping gear that just one person requires let alone a team of 6 to 8, with bedding taking up a lot of room. In my youth I'd take the bear minimum and rough it on a foam carry mat, but the air bed is a must these days as it the duvet and pillow. Needless to say, the aquisition of a LWB transit type vehicle for the support vehicle is looking very probable and a box trailer also looks like an essential piece of kit now too.
David, 4th August 2010: Went along to the Keeping Abreast meeting this evening. I was asked if I could just give a quick talk to the congregation to let them know what the project is all about. Managed that ok and secured another £20 sponsorship and another £35 pledged. I've got an invite to go along to a coffee morning later in the month as well as an awareness evening at a fitness place.
---
David, 31st July 2010: Tina and her husband came round to my house today on their way back from picking up the new addition to their fleet, a fantastic looking Suzuki RV 125 Van Van. Cracking little bike, bought exclusively for the Fat Bloke On A Moped Projects. Picture duly added to the Team photographs section.
David, 29th July 2010: Went along to the Thetford & District Motorcycle Club this evening. I'd joined their online forum and had been invited along. Alan allowed me to talk to everyone at their meeting to tell them about the project. Normally I have no problem with public speaking but, for whatever reason, I was a little...... emotional. On the plus point they'll remember me but more than likely it'll be more for blubbing in front of 30 people rather than the catchy name of the web site and project. On the plus point, they seemed like a very nice bunch of people and hopefully a few of them will be along for the ride.
David, 28th July 2010: Thought it was about time I actually got to know my bike. With Kevin waiting to the resolution of his scooter woes, the basic parts to my Pntheon have so far remained hidden. I had a brief look over for the access panels and decided to (sit down ladies, I'm about to do something men just don't do) read the manual. (You can pick yourself off the floor now.)
The fluid levels were easy enough and I took the front off to see how easy it was to chage bulbs shoudl the need arise and surprisingly the underseat tool kit was rather comprehensive. I was also amazed to find I have 5 stages of variable rear suspension settings and it had been in the default 3 setting since I had it, so I duly set it to no.1, the comfort setting and went for a quick spin, changing it to no.5 for the return journey. I could find no difference what so ever so I've left it in no.2. I did burn my knuckle on the hot exhaust pipe though while I was changing it.
The air filter assembly is a bit over engineered. It was easy to see why there is no K&N available for it as most of it is moulded to a large piece of plastic. I doubt that will be cheap from Honda either. Noticed that the inlet pipe to the air box looked quite restrictive too, being half the diameter of the pipe leading to the inlet manifold. Hmmmmmm. Honda must have done it like that for a reason.
Gave the bike a wash too. First time since I've had it!
Kevin 27th July: well I haven't updated recently becasue I've just been a little busy what with passing my car test and the discos I do on the side (am avalible for hire) I've just lost track of time but luckily within all of the rush I have managed to get my moped to Russ Williams Repairs (18 Paradise Road, Downham Market, PE38 9HS 01366 387795) and am going to hear back in the morning on what's wrong.
David, 19th July 2010: Visited a motorcycle club called Wisbech & District Motorcycle Club that have fortnightly meetings at The Golden Lion in Stonea. Great group of riders who were interested in the ride. They do a lot of charity rides and I hope I'll pick up a few ridersto join the main entourage on the 25th September.
David, 18th July 2010: Took a trip to SundarScoots yesterday and met up with Michael Barnes the owner. The showroom was

overflowing with any part you could possible want for a Lambretta or Vespa. He was an ever so helpful chap too and he imarted some useful advice as well as pointing me in the direction of a few people and local clubs who may be able to help out and be interested in the Project Norfolk ride.
David, 14th July 2010: Rode into Downham Market and then to King's Lynn to complete a few tasks. While in Lynn I thought it wasn't far to pop up the road to Hunstanton. Got talking to a couple who had just returned to their bike as I'd noticed they were members of Wisbech Motor Cycle Club. Not being too far from me they invited me to their meeting that's taking place at The Golden Lion at Stonea, which is not far from me at all, to have a chat with the other members of their club as they may be interested in joining the Project Norfolk ride. Cool. They have just over 80 members!
David, 10th July 2010: Had a nice spread and write up in the Eastern Daily Press today. Nice to get things moving publicity wise. Had the pic of my clowning about on the mini moto as in the header pics above. Think the photographer definitely captured my 'bulky' side.
David, 8th July 2010: Had a visit from Chris and Ian, reporters of the Eastern Daily Press this morning. I mustered a few of the troops who rallied round for somephoto's over the playing field. Hopefully the report, due in the EDP either Friday 9th or Saturday 10th July, will raise the awareness of the project and with a bit of luck, get more bikers and moped riders involved in Project Norfolk.
---
David, 30th June 2010: I undertook my biggest trip so far today, I set off to go and see my parents and called in at my brothers work too so I can drop off some sponsorship formsa for them. The journey took me down to Ely, across teh A142 to newmarket where I picked up the A14 south bound, slipped on to the A11 and then before the M11 (not allowed on motorways with 'L' plates) I followed the old A11 (B1393) to just outside Epping. Total journey time was 1 hour 40mins to do the 65 miles, although bizarrely 1 hour 55mins coming back - must be because it was up hill. Top wack of my stead was a mighty 70mph on the 3 lanes of the A14 but I did notice the fuel gauge needle drop quite considerably, so easing off to the 60 to 65 seemed wise. Had to fill up on the way back, and although not completely accurate (the tank only takes 2 gallons) I worked out I'd got 96mpg. Happy with that!
I did come off the road once. It was at a junction and I didn't quite gauge it right. I need more practice.
David, 25th June 2010: Popped into Lynn early evening to pick up my high vis top that was getting printed at Double GG Clothing

that C & A Superbikes donated
Graham and Gordon at Double G Clothing kindly donated the printing of my high vis top, so if you're in traffic behind me you can clearly see "fatblokeonamoped.com sponsored by C & A Superbikes" and know it's me (so remember to stop me and donate!)
David, 23rd June 2010: Full of excitement and trepidation, set off in the car this morning to pick up my bike. Assisted by my good mate Barry (Kevin's father) who was so good as to drive my wife's car back home for me.


Chris in the clothes department had managed to source all but the protective trousers for me. Turns out they don't quite go up to the size that would cover my manly physique (q.v. title of this web site.) All else fitted though!
With 'L' plates adorning the front and rear of the bike and a quick pause for the photo's below with John the salesman, I set off on my maiden voyage. Pick up is lovelly and smooth and I can get to 50 quite easily, with 60 showing after a bit more of a wait. Think 50 is a nicer cruise speed though. Managed to get back in time for the England World Cup football match which pleased Barry.
Observations from those that I've shown back at base is that it doesn't make me look as fat. Dunno if that will be a good thing or not! :-)
| | | | | |
| --- | --- | --- | --- | --- |
| | | | | |
| Posing outside Ling's With John | Barry Pointing out where the bike is | Looking almost slightly ridiculous | Claire sat out the front of the house for the best part of an hour waiting for me to return so she could take this... | ...and by the time I got to here she was laughing her head off. |
Kevin, 23rd June 2010: Ok I'm not going to lie this is the first blog I've ever written; well now the ice is broken i can go into why I'm writing it. The problem is the moped I'm hoping to do the Norfolk ride on is a Piaggio Zip 50cc 2stroke and also at the moment not working. I have absolutely no idea why because I've tried so many possible problems (listed) and they haven't done anything so I'm thinking that if I describe the problems you bike enthusiasts out there can send some suggestions my way as to how to fix it well here we go:

The problem: It will start and tick over all day, also it can potentially pull you around at up to 12mph but only if you throttle on throttle off constantly anything over that and it cuts out like its either flooding or not getting enough petrol spark is good when taken out. All this started after i put some petrol in at a garage i had never used before
What we have tried:
Air filter clean
Fuel filter clean

As it operates a vacuum petrol system checking the pipes to ensure full vacuum
Clean carb completely
New spark plug
With auto choke
Without auto choke
With exhaust
Without exhaust

Any ideas for fixing it please don't hesitate to contact me through the information on my profile on the site
Until next time
I'm Kevin and good night
David, 21st June 2010: Done my CBT with the very good Louise who operates from the King's Lynn Car Auctions site on the Hardwick Narrows Industrial Estate. After all the grief and turmoil since this year began, riding the little 50cc 2 stroke bike was, I have to admit, the best fun I'd had all year. It's amazing how vulnerable you are to anything else on the road.
If you want to do a CBT then I can recommend Louise and you can contact her on 07818 001203.

On the way home, I sorted out a helmet. Tried all sorts on under the guidance of Ed from C & A Superbikes at Tottenhill although
the most comfy for me was the Shoei Flip front. (Note to self: Remember to start calling them 'Lids' so I can try and fit in with all my new motor bike mates :-) Ed kindly threw in a high viz top to go over my protective jacket and I agreed to get their name printed on the back. Nipped in to Double G clothing in Lynn and left it with them to get it printed. Should be able to pick that up on Friday.
| | |
| --- | --- |
| David, 16th June 2010: Oh cripes I've bought a bike! It's a 2006 Honda FES 125 Pantheon. I have to admit it's quite a lot bigger than I originally anticipated but it still fits into the moped/scooter bracket. Top thanks to the guys at Ling's Honda in Harleston for all the help, guidance and the deal they gave me. I'll be picking it up some time next week, or if I don't do too well with a CBT then someone else will be picking it up. | |
David, 15th June 2010: Had to visit Peterborough today and called in at Webbs in Eye. Nothing in stock suitable but left my name. Also called in at Gildo's in Wisbech and spoke to a really friendly and helpful man called Adam. He's going to look out for me and asked me to call him at the weekend. Have realised that the mainstream scooters are just too darn small for me (or I'm too big!) but am taking a trip over to a Honda Dealership tomorrow near Diss and am looking at a Pantheon. According to Adam at Gildo's, apparently I won't hear a bad word said about them. From the pics on Ebay, it looks great!
Also, booked my CBT with Louise in King's Lynn for Monday morning. It's all happening!
David, 12th June 2010: My 6th wedding anniversary today and after taking Claire to have her hair done I rewarded her by taking her to the motor bike shop to have a look at the ped I'd seen. It had been sold the day previous. Rats! (Who said romance is dead?) A bit of a little set back as over the last week and a bit since I'd first seen it, I'd convinced myself that it was the one to have. The quest to find one will begin in earnest this week as will securing my CBT and 125 licence.
David, 11th June 2010: I've had my moped insurance for a year donated by Stevenage Insurance. Thanks guys, it's very much appreciated and will help me enormously.
Check out their web site at Stevenage Insurance Services Ltd, 9 Walkern Rd, Stevenage, Herts, SG1 3QD, 01438 313251. Email: stevenageinsltd@aol.com
David, 4th June 2010: I visited a local motor bike forecourt only last week and saw an absolutely cracking ped. Unfortunately it was a lot more than I was anticipating and had budgeted on spending on a bike, however on the plus side it had only covered 150miles from new, was on a 59 plate and still had a two year manufactures warranty. It seemed like a very big bike for a ped, but it was a 125cc which with my bulk is looking like a necessity. I'm very tempted though.
Project Norfolk Team
To make Project Norfolk work, it was vital the right team for the job were in place. The following team members all put a huge effort in to the cause, didn't moan (much) and were all just top people in helping me put all the above into action. It wouldn't have been possible without them.

Name
David Fletcher

Occupation
Photographer, IT Support
Contact
07919 902902, Email: david@fatblokeonamoped.com
Role
[Trainee] Moped Rider, Project Organiser.
Bio
"At 40 years old, guess this would have to be considered as my mid life crisis adventure. Some people buy fast cars and bikes, I just want to make a difference. Having worked in IT for the vast majority of my life, I fell in to photography about 8 years ago and [naturally] took quite a few pics of my gorgeous wife. I've been a veteran fund raiser for the Fishathon 1, 2 and 3 charity fund raising projects and am currently the secretary of the Swish Foundation. I enjoy village life and especially my real ale (hence the 20 stone bit) but took up cycling last year in an effort to get fit."
Name
Claire Fletcher

Occupation
Incapacitated
Contact
07709 606948, Email: claire@southery.com
Role
Project Coordinator
Bio
"Now just turned 39 and my life has been changed for me in a big way. Since I've been given the 'all clear' from the hospital, I can now plan for the furture. Once I have fully recovered from the 1st part of my operation I can start looking for a new job but enjoy life more with my gardening and be more adventurous with my cooking (David may not like this), but the main objective is to enjoy life more together."
Name
Peter Smith

Occupation
Publican
Contact
07947 749926, Email:
Role
Bike Rider
Bio
"I am the local landlord and the only 'real' biker involved in this venture. I have known Dave & Claire since I took over the village local with my boss, Nicola. So when an opportunity came up to help out our friends, and it involved ...er... motorbikes, I jumped at the chance.
What my final duties will include I don't know, but, I am offerring advice, if it helps, and will at some point get out on the open road for this worthwhile cause."
Name
Kevin Rooney

Occupation
Student
Contact
07500 154063, Email: kevin@southery.com
Role
Moped Rider, Project Organiser
Bio
At the time of writing this bio, Kevin is the only one of the team that owns a moped [pictured], albeit in a non functioning capacity. Undeterred he's pressing on to get it fixed however he's firmly believing to be in command of another vehicle, hopefully a 125cc by the time of Project Britain in 2011.
Kevin is currently a student at King's Lynn College and he brings with him overwhelming enthusiasm and a confident attitude.
Name
Tina Lucie-Smith

Occupation
Superintendent Radiographer
Contact
07941040014, Email: tina.euan@btinternet.com
Role
Bike Rider
Bio
I am the token 'girlie' real biker for the project, bringing about some reality as to why the ride is being done. I have only known Claire and Dave a short time, as I was involved in the diagnosis of Claire's DCIS. On hearing of the ride planned I was instantly committed. Anything bike related is my 'therapy', if it helps to make people more breast aware, then even better. I have previously ridden Land's End to John O'Groats, from King's Lynn and back, as a fund raiser for the Breast Unit on a 'big' bike, this ride will be at a more sedate pace but just as rewarding. I have even bought a bike just for the rides!
Name
Stuart Graham

Occupation
Sugar Beet Factory Supervisor
Contact
07539 977276, Email: stu@fatblokeonamoped.com
Role
Support Car Driver
Bio
Stuarts recent addition to his family means he's having his fair share of sleepless nights and moving house has made sure he's kept busy. Committed to the cause, financial commitments mean he will be relegated to support crew for Project Norfolk while a recent promotion at work looks very rosey for his biking aspirations. Like David, he's not ridden before so when funds permit towards the end of the year, a CBT is in order and he'll be looking to purchase a steed early in 2011.
Name
Roger Clayson

Occupation
Retired (as of 20th July 2010)
Contact
07717 115722, Email: rog.clay@tiscali.co.uk
Role
Street Collection Supervisor
Bio
When I spoke to Roger about the Moped Projects it was immediately after he told me he was retiring in a few days and he didn't know what he was going to be doing with himself. As if a light was being turned on at the far end of the project tunnels, Roger, with his PSV licence, was going to be a very valuable asset indeed. That and he's a very decent chap and wonderful company. Also, we never know when his hair dressing skills might come in useful.
...and so on to 2011
"Will there be another round Norfolk Trip for 2011 whereby we can all take part", I here you ask?
Ummmmmm.................... maybe.
If you would like to ride the last leg of Project Britain which, if everything goes to plan, should be
Saturday 16th July 2011
you'd be more than welcome to join us at the Britannia pier on Gt. Yarmouth sea front and ride the route back to the finish line in Southery.
;-)